Challenge
Create an easy-in-use system containing all business operational features
The idea behind the exhibit-E app for art galleries is to simplify the daily work of staff and management. To do so, we attempted to create an environment where your gallery staff implements necessary changes without coding proficiency. That way, your offer is easy to update and present to your customers.
Create a website creator with a fully customizable interface
Each art gallery has its aesthetic style according to the style they follow. exhibit-E is an application for art galleries. That is why our team implemented an interface that is fully adjustable according to the facility's needs. This application for art galleries consists of an easy-to-navigate interface that meets the expectations of even the most demanding clientele.
All the solutions implemented within this application for art galleries aim to support daily business operations within the facility. The whole app's design was created with the specific needs of this niche. Thus, their efficient application results in saving money and time.
To sum up, our main objectives were to:
facilitate the daily operations of art galleries,
provide a fully adjustable, customizable interface for every gallery,
create an easy-to-follow interface for users who are not familiar with coding practices.
Used technologies
Collage Manager: PHP · Symfony · mongoDB · elasticSearch · MySQL · Memcached · Docker
Gallerymanager: PHP · Ext JS · elasticSearch · MySQL & iOS app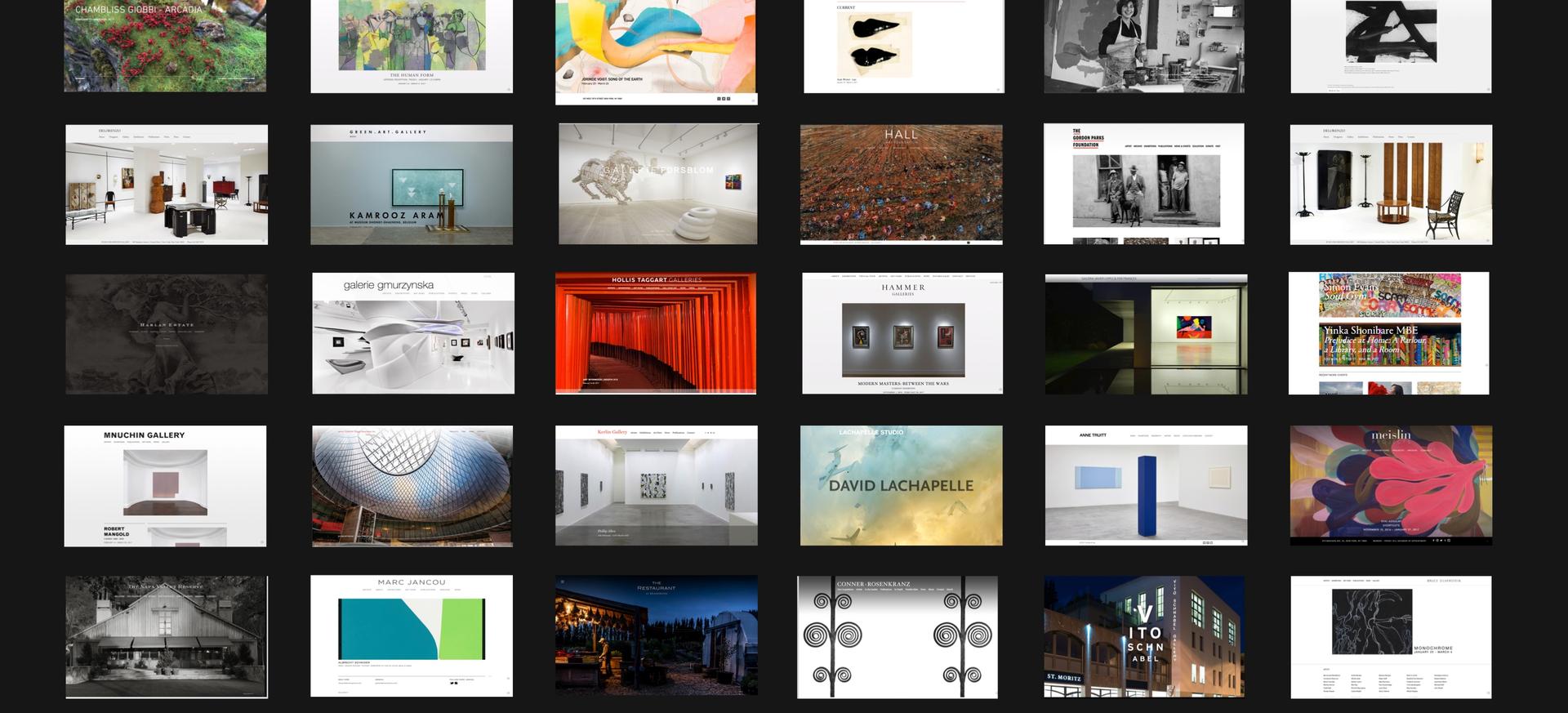 Solution
An application for art galleries to build websites from the get-go
Exhibit-E provides a set of tools for building a dedicated website from scratch. In Collage Manager, the user can choose from various built-in modules that can be easily moved and set around the website. Drag and drop functions include video, images, and text boxes. Collage Manager allows choosing from existing templates that can be further cut and customized.
An application for art galleries you can access to anytime
GalleryManager is a tool accessible from virtually any device - from computers to mobile phones and tablets. This makes it easy to manage your site seamlessly, presenting the art pieces for your customers and managing finances or ongoing transactions.
A secure application for art galleries
Security is a must - especially for such businesses as art galleries, where we encounter high-value transactions. exhibit-E is an encrypted application that keeps your data safe and secure.
Tracking artwork and artists' history
The exhibit-e app for art galleries allows you to record and track all artwork data. That includes its history of purchases, consignments, loans, and ownership data. With such detailed information, you can keep your products in order - to serve your clients with all the necessary data.
Creating automated invoice and sales records
Now, you do not have to rely on external invoicing solutions. exhibit - E, as a well-rounded application for art galleries, offers a tool to create automated invoices and sales documents directly from your inventory. The whole process is smooth and easy, making this application a useful tool in everyday work life of an art gallery.
Online service to the art world
Gallery Manager is a web-based platform for managing gallery transactions, inventory, sales, and invoicing. It includes purchase order tracking functionalities and allows submitting a bid. GalleryManager 2.0 easily integrates with Exhibit-E websites, allowing you to add the artwork to your website and manage both systems from the same dashboard. Both solutions are accessible online from any device with internet access. Also check out other apps made by Softnauts: